▁ ▂ ▄ ▅ ▆ ▇ █ 💠𝙒𝙃𝙊 𝘼𝙍𝙀 𝙒𝙀💠 █ ▇ ▆ ▅ ▄ ▂ ▁

𝗚𝗮𝗺𝗲𝗱𝘂𝘀𝘁 started in 2015 as the 𝗩𝗶𝗿𝘁𝘂𝗮𝗹 𝗥𝗲𝗮𝗹𝗶𝘁𝘆 division at Setapp - a Polish software house located in Poznan.

Studio became separate company in 2017 and delivered glorious games such as 𝗢𝘃𝗲𝗿𝗳𝗹𝗶𝗴𝗵𝘁, 𝗡𝗲𝘃𝗲𝗿𝗼𝘂𝘁, 𝗦𝗽𝘂𝗱𝘀 𝗨𝗻𝗲𝗮𝗿𝘁𝗵𝗲𝗱 and most recent 𝗬𝘂𝗽𝗶𝘁𝗲𝗿𝗴𝗿𝗮𝗱, to over 15 VR and non-VR gaming platforms.

In each of created games we focus on blend of unique gameplay mechanics and art direction.

Today 𝗚𝗮𝗺𝗲𝗱𝘂𝘀𝘁 has experience which enables us to deliver projects on time in healthy work environment without crunches and (𝘵𝘺𝘱𝘪𝘤𝘢𝘭 𝘪𝘯 𝘰𝘶𝘳 𝘪𝘯𝘥𝘶𝘴𝘵𝘳𝘺) insanity, to develop, publish or port the games on our own and help other companies with their Unity Engine VR and non-VR projects.
▁ ▂ ▄ ▅ ▆ ▇ █ 💠𝙊𝙐𝙍 𝙂𝘼𝙈𝙀𝙎💠 █ ▇ ▆ ▅ ▄ ▂ ▁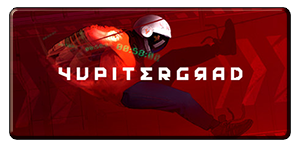 ▁ ▂ ▄ ▅ ▆ ▇ █ 💠𝘾𝙃𝙀𝘾𝙆 𝙐𝙎 𝙊𝙐𝙏💠 █ ▇ ▆ ▅ ▄ ▂ ▁
💬【𝙳𝙸𝚂𝙲𝙾𝚁𝙳】https://discord.gg/WPjfEmx5S2
📰【𝙵𝙰𝙲𝙴𝙱𝙾𝙾𝙺】https://www.facebook.com/Gamedust
🦆【𝚃𝚆𝙸𝚃𝚃𝙴𝚁】https://twitter.com/GamedustTT
🕹️【𝚂𝚃𝙴𝙰𝙼】https://store.steampowered.com/dev/GameDust
🎞️【𝚈𝙾𝚄𝚃𝚄𝙱𝙴】https://www.youtube.com/c/Gamedust
📷【𝙸𝙽𝚂𝚃𝙰𝙶𝚁𝙰𝙼】https://www.instagram.com/gamedust_studio/